What a New Machine Unleashed Within Our Team
Scott Evans, Kenmore Envelope
At our Evergreen® company, Kenmore Envelope, we print, cut, and fold envelopes. More specifically, to throw some fancy envelope jargon your way, we make "flat-sheet litho convert envelopes." It's not a high-growth industry. It's not sexy. But we get pretty excited about envelopes because we believe deeply in our product, in serving our customer, and, perhaps most important, in helping our people develop into the best versions of themselves.
In our industry—as in so many—providing team members with opportunities to learn and grow means investing in technology and making continual Pragmatic Innovations to drive our team forward. We have seen clearly the impact of this connection between innovation, team, and company growth over the last five years as we have invested in large-scale equipment upgrades.
About five years ago, I recognized that if we wanted Kenmore Envelope to be the market leader, we needed to invest in new technology. At that point, we were operating older envelope equipment that required very talented adjusters with extensive mechanical skill sets. I knew that if we wanted to bring on the next generation of adjusters and other talent, we had to transition into Winkler + Dünnebier (W+D) equipment, which is next-level technology from a folding equipment standpoint.
In my view, it was go-time. If we didn't make a move to invest in this capability, we wouldn't survive. At the end of the day, speed wins in our business, and without new equipment and top-tier talent, we wouldn't be able to compete long term.
But making those initial investments required a shift in thinking in our family-owned company. My father-in-law, who was CEO at the time, was worried about the financial risk of investing in new equipment. He felt the company was at a good size, and he didn't want to take on debt. We had a lot of internal conversations around the decision, and, in the end, we agreed on one new machine as a healthy first step.
In 2015, we bought a W+D 627 folding machine. We put it on the floor, and after three-to-six months, we were hitting numbers that we could only dream of hitting on our older equipment.
That success led my father-in-law to feel comfortable with the purchase of a second machine. When we saw the returns on the second machine, we knew we were at a turning point. The new technology led to significant growth over the next two years, reaffirming the value of the investment and inspiring us to ultimately purchase two more machines. Within a five-year window, we had added five new pieces of W+D equipment, and it transformed our company.
The investment in technology changed our speed and volume, and it changed the talent we could hire and promote. It's a lot easier to hire people when you have new equipment and can say, "Hey, you're going to come in and run this brand-new machine." People want to be part of a winning team. They want to be in part of a culture that is moving forward and to work in a place where they can envision a future.
Not only did the new technology help us recruit new talent, it allowed us to develop and promote existing team members. We could take younger adjusters who maybe weren't quite as mechanically skilled as some of our more veteran guys but were more touchscreen-savvy, and they did really well on the new equipment. The new machines also gave some of our more talented operators who didn't have the mechanical skill set to be an adjuster on the older equipment the opportunity to level up and operate the new machines. And, many of our older adjusters actually ended up wanting to work on the new equipment as well. Everyone was excited.
The growth in the wake of the purchase of the fifth new machine was explosive. We went from a $13 million shop to a $28 million shop. Bringing in the new folding machines also spurred us to invest in a new printing press because as we added all these pieces of W+D folding equipment, alleviating our constraint in that area of the business, we started to lack capacity on the printing side. We purchased a top-of-the-line Koenig & Bauer press and sent our four pressmen to the factory in Germany to be trained. If we were going to invest in the technology, I wanted to also invest in our people to ensure they were confident and skilled when the equipment hit the floor.
Today, we continue to look at new innovations and opportunities to develop our team. Every investment we're making today is about the future—about speed and attracting the best people. Introducing new technology means opening our talent pool to a new generation of operators and professionals in our industry. It changes who we can recruit and who we can hire and keeps us more relevant.
Looking back on the initial decision to buy that first new piece of equipment, I could not have imagined how it would transform our company. I knew that investing in technology would allow us to be progressive in our market and grow our business, but I didn't realize how it would change our team's perception about where the business can go and how we're going to get there.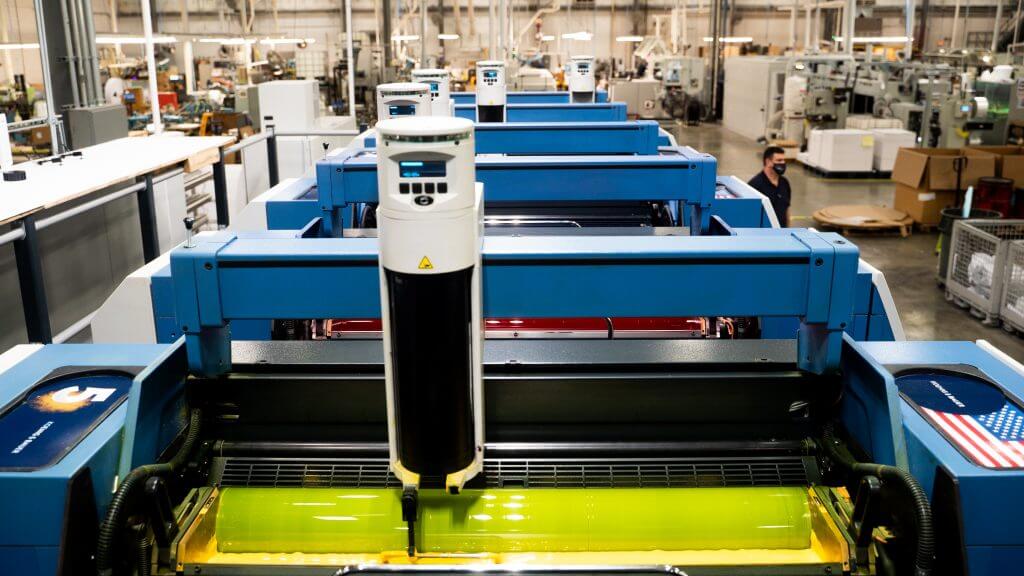 People walk around with a little bit more pride today. They take care of the equipment a little better.  They've realized, "Hey, there's a long-term play here. We're all in this together." So, while our leadership team may have made the decision to take that initial investment risk, it's our people getting behind that decision and embracing the benefit to our customers that had really created this success. It has changed our team's mindset about what Kenmore can become.
I truly believe that "all ships rise when the tide comes in." When our people grow, our future grows.
 Scott Evans is President and CEO of Kenmore Envelope.