Celebrating Women in Envelope Manufacturing
As we celebrate Women's History Month this March, I am reminded to pause and remember that things were not always the way they are now, and they will not always be this way either.
We are constantly growing and changing, two steps forward, one step back. This month personally challenges me to remember to keep going and add my bricks to the road that had been started long before my time.
According to the US Bureau of Labor Statistics, only about 29% of women are in manufacturing in the U.S. Workforce, with 39% of women in the printing industry.
When I started 9 years ago, I didn't see many women in leadership roles in the print industry — specifically in envelope manufacturing. Fortunately, with LinkedIn and other social media platforms, I am finding others and we are connecting more now, than ever before. Here at Kenmore Envelope Company, we now have 8 women in leadership roles.
The exciting thing about being in a leadership role in envelope manufacturing is being able to pave the way for others. I never thought of myself as a trailblazer until other women have reminded me over the past few years that this road has not been well-traveled by us. I take pride in that and want to always show up and do my best for those coming up behind me.
I didn't have a chance to follow many other women in leadership roles so I'm honored to be able to do so for the next generation. Representation matters and I'm proud of the number of women in leadership roles here, that women make up 30% of our team and that we have both a female adjuster and a female maintenance coordinator.
I have watched a new generation emerge since I started at Kenmore and everyone is so excited for the future. The world is adjusting around us in many ways. It's challenging all of us at Kenmore to figure out what we can do next, how can we do better, what can we offer that's different and how can we connect with our vendors, clients, and friends in new ways. That is EXCITING!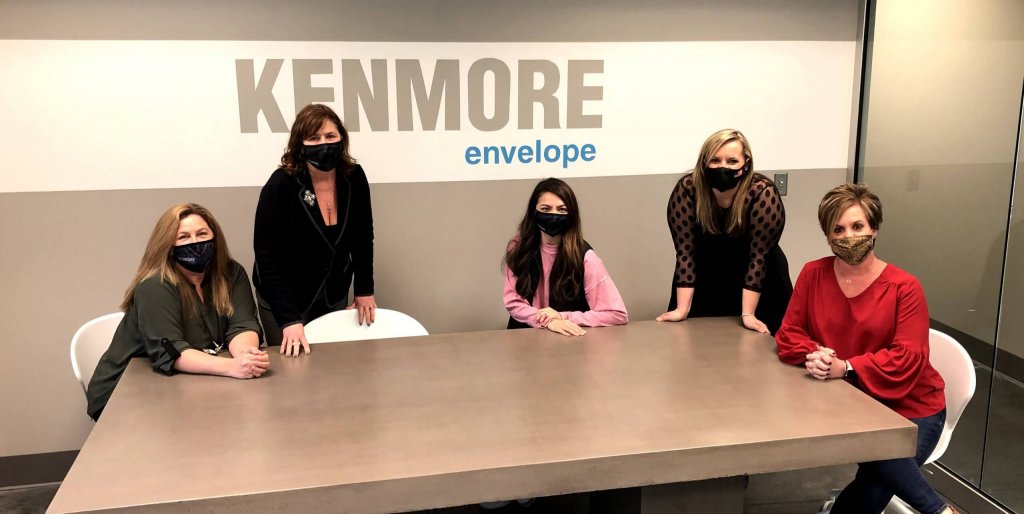 The future of the print industry is so bright — and the industry itself offers so many opportunities regardless of gender. Whether you are on the manufacturing side, agency or buyers, the opportunities seem endless and everyone is so supportive throughout the industry.
This industry just wants the best for each other — whether we are in business supportive relationships or even competitive. Above that, we learn something new every day.
If you want to challenge yourself and get on the manufacturing side of something — why not make it in print? 
Here's to the future and many opportunities!